Master Gardener
Administrator
Moderator
Plus Member
Messages

5,453
Location
Planting Zone

8b
COVID is/was just a strain of the flu. 39 million flu cases in 2019/2020 flu season followed by only 2,124 cases in the 2020/2021 flu season. There were 646 deaths relating to the flu among adults reported in 2020, whereas in 2019 the CDC estimated that between 24,000 & 62,000 people died from influenza-related illnesses. Do the math.
The vaXXX is the actual PANDEMIC!!!
Three States with Highest Vaccination Rate Lead the Country with Greatest Increase in COVID-19 Case Rates Last Week
And the state with the greatest decreased rate in COVID-19 cases was Texas.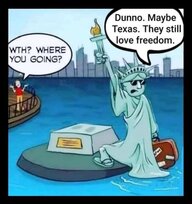 ​