Master Gardener
Administrator
Moderator
Plus Member
Messages

6,036
Location
Planting Zone

8b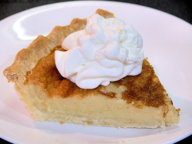 ​
1 1/2 Cups sugar
2 Tablespoon flour
1/2 Teaspoon salt
3 Eggs
1 Cup buttermilk
1/2 Cup butter (melted, but cooled)
1 Tablespoon vanilla
1 Pie shell​
Preheat your oven to 400 degrees.
Combine the dry ingredients in a bowl & set aside.
Now combine the wet ingredients. Beat the eggs well & then add the buttermilk, butter & vanilla. Mix these well.
Now slowly add the dry mixture to the wet mixture, combining thoroughly .
Pour the combined mixture into the pie shell & place it on a cookie sheet (in case it bubbles over).
Bake at 400 degrees for 10 minutes & then turn the temperature down to 350 degrees & continue baking for an additional 45 minutes or until the top is a golden brown. Cool & serve.
Enjoy!!!