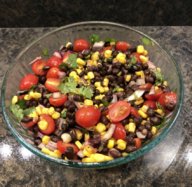 Ingredients
Salad
2 cans black beans, drained and rinsed
2-3 avocados, seeded and cubed. (*see note)
2 cups corn, fresh or frozen (thawed)
2 cups cherry tomatoes, halved
1/2 cup red onion, diced
1/3 cup cilantro, rough chopped
Dressing
1/3 cup fresh lime juice, more if desired
3 tablespoons extra virgin olive oil
1 teaspoons pure maple syrup or agave, (or any sweetener)
2 tablespoons fresh cilantro, finely chopped
1/2 teaspoon garlic powder
1/4 teaspoon chili powder
1 teaspoon sea salt, more to taste
fresh ground pepper, to taste
Instructions
Place all the veggies in a large bowl (except the avocado) and toss to combine.


In a small bowl, whisk the lime juice, olive oil, maple syrup, cilantro, chili powder, garlic powder, ground pepper and salt.


Pour dressing over veggies and toss to combine. Now add avocado and toss gently so they don't mash together. Taste for salt and pepper, add as needed.


Serve immediately or refrigerate for 30 minutes. Serve with fresh pita bread, tortilla chips or a side of rice. Enjoy!
Extra: sometimes I also like to top the salad with baked chicken.
Recipe Notes
*
Avocados that are just-ripe work the best, otherwise they will get mushy in your salad.
*
If you're making the salad ahead of time, you may want to add the avocados & tomatoes just before serving. This will keep the salad fresh tasting.
* For extra heat, add 1/8-1/4 teaspoon cayenne pepper to the dressing.