Master Gardener
Administrator
Moderator
Plus Member
Messages

6,120
Location
Planting Zone

8b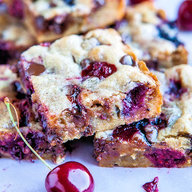 1/2 Cup unsalted butter, melted (1 stick)
1 Cup light brown sugar, packed
1 Large egg
2 Teaspoons vanilla extract
1 Cup all-purpose flour
1/4 Teaspoon salt, optional
1/2 Cup chocolate chips
1 Cup cherries (fresh or frozen)
​
Preheat oven to 350F. Spray an 8-by-8-inch pan with with cooking spray & set aside.
In a medium microwave-safe bowl, melt the butter, about 60 seconds.
To the melted butter, add the brown sugar & stir to combine.
Add the egg, vanilla & stir to combine. Add the flour, salt & stir until just combined, taking care not to over mix or the bars will be tough.
Fold in the chocolate chips & fruit (I dont halve the cherries). Then pour the batter into prepared pan, smoothing it lightly with a spatula or offset knife if necessary.
Bake for 30 minutes or until edges begin to slightly pull away from sides of pan & the center is set.
Allow bars to cool for at least 1 hour before slicing & serving. These bars can be stored in an airtight container at room temperature or frozen for up to 3 months
Enjoy!!!