Messages

1
Planting Zone

7A
Hello, I am trying to grow some flowers under grow lights and I was wondering if someone could help me with this? I am new to growing plants and I would like to see if yall can help me get the information I need to get the plants growing good and hopefully answer the questions I have? I am using my aquarium to grow flowers in, I would like to have it all year growing if possible. I need help doing it! Here is a picture of some flowers I have put in there to start learning with. I will probably add some different flowers once I get it going good some of them I found in the yard outside and some I got from a rose garden.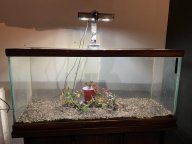 I would like to know things like what how bright the lights need to be?
How much lighting do I need in a day?
How often do I water?
Do I need to use some kind of flower fertilizer?